---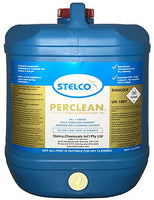 Perclean® or Tetrachloroethylene (perc) is one of the most widely used solvents in the dry cleaning industry.
Stelco Chemicals International is the proud supplier of the NUMBER ONE graded perc product in the world (Perclean®) from the number one manufacturer of perc in the world 100% DOWPER. 
​
Under the licensed trade name, Perclean® Gold Label Stelco Chemicals International provides Perclean® to the Australian market which is guaranteed to be:
100% virgin material.

Designed and manufactured specifically for the use in dry cleaning machines.

It contains PROPRIETARY STABILISING AGENTS that will carry over in distillation 100% of the time, ensuring your Perclean® pH remains the same from its first use to its last.

Is the highest quality product available every time it is purchased.