---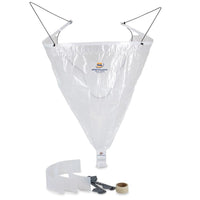 Speed Clean Mini Split Bib Kit XL (Without Bucket)
The Mini-Split Bib Kit XL is a fast way to clean larger commercial ductless mini-split coils, blower wheels and more.
The patented technology fits ductless units from 115 to 160 cm and keeps water away from walls and other surroundings and directs it into a bucket for disposal, so it's clean and safe all around.
Quick to set up and easy to move from job-to-job.
Includes 20cm drain line for high mounts.
Keeps walls and floors safe from water and overspray.
Description
The Mini-Split Bib® Kit XL is the larger version of our popular Mini-Split Bib® Kit. This product is designed to fit larger, commercial ductless mini-split air handlers, up to 60″ in width. Mini-split installs are the faster-growing category in residential marketplaces, and the installation and maintenance of larger, commercial units are catching up fast.
The patented Mini-Split Bib® Kit XL makes it simple to clean large units in place and saves a ton of time. It attaches quickly to mini-split systems from 115 to 160 cm wide using special brackets and uses the custom-designed 6mm plastic bib section to create a barrier against the wall and other surroundings. Now you can easily clean the coils, fan blades, and more with pressurized cleaning systems, like pump sprayers or our CoilJet Portable Coil Cleaning System.
The system is simple to use. Simply slide the brackets in behind the corners of the mini-split air handler. Attach the bib and protective wall plates and tighten. Then place the bottom of the bib funnel into a bucket. All coil cleaner, water, and debris are safely funneled into the bucket. No mess, and no fuss.
Application
Commercial Mini-Split Air Handlers
Features
Fits mini-split systems from 115 to 160 cm wide
Allows quick and easy cleaning of coils, fans blades, blower wheels and more
2.4 meter hose funnels all coil cleaner and water safely into a bucket for easy transport and disposal.
Strong 6 mm plastic bib with sonic welded seams
Keeps walls and surrounding safe from water and cleaner spray