---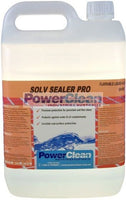 Solv Sealer Pro is a professionally formulated solvent-based penetrating sealer providing exceptional protection for low porosity tiles and fine stone. It is based on "ultra-small molecule structure" technology which enables it to penetrate into the fine pores of polished porcelain, dense granite and fine stone to create a high-performance sub-surface barrier against water and oil-borne contaminants. 

Solvent-based 

Protects against water & oil contaminants 

Provides premium protection for up to 5 years
| | |
| --- | --- |
| Colour | Light tan |
| pH | N/A |
| Safety | Hazardous |
| Pack Size | 5Lt |
BENEFITS 
Premium Protection provides optimal protection against water and oil-borne contaminants including, 

Food and beverage stains, 

Oil and greasy spills, 

Biological growth such as mould & mildew, 

Efflorescence 

Pollution and weathering 

Versatile Application – Solv Sealer Pro's solvent base chemistry allows for almost foolproof application, providing premium protection to a wide range of substrates but with special distinction on fine pore surfaces such as polished porcelain and polished stone. 

Natural look – does not alter the natural look of fine stone nor change its surface texture. 

Surface Safe – will not etch or cause discolouration of marble or fine stone. 

Vapour permeable – won't trap moisture. Allows natural stone to breathe. 

Safe to Use – Solv Sealer Pro does not contain chlorinated hydrocarbons and is not a suspected carcinogen. 
SUBSTRATES 
Polished porcelain, unglazed & semi-vitrified ceramics and grout. 

Polished and/or dense granite and fine stone. 

Terracotta, Saltillo, Quarry and Terrazzo. 

Also provides excellent protection to Sandstone and Slate. 
WHERE TO USE

The high-performance protection offered by Solv Sealer Pro is ideal for the preservation and preventative maintenance of:
 

Porcelain, fine stone and similar low porosity flooring in private and commercial buildings, 

Food preparation and dining areas, 

Washrooms, change rooms and showers, 

Granite and similar dense stone counters and bench tops, 

Expected Wear – Solv Sealer Pro will provide excellent protection for up to 5 years. However, application methods, weather conditions, traffic and harsh cleaning methods will affect wear. Avoid the use of solvents, strong acids and strong alkalis for extended sealer life. 

It is recommended that the sealer should be re-applied every 2 – 3 years where harsh conditions exist. 
HOW TO USE 

Preparation:

New installations must be fully cured before application of Solv Sealer Pro (Min 48 hours) 

Existing stone, tile and grout must be totally clean, dry and chemical-free. 

Coverage is 10 to 30m2 / Litre per coat. The coverage for the 2nd and 3rd coats is significantly higher. 
Application:
Apply 2 to 3 coats Solv Sealer Pro by generously saturating the surface using a polish applicator, roller or sprayer.
Using a squeegee or/and absorbent towelling or applicator, wipe off any sealer remaining on the surface after 5 to 10 minutes of each application.
Allow at least 30 minutes in between coats. Best results are obtained when the subsequent coat is applied after the solvent has totally evaporated from the previous one.
Keep traffic off for 2 hours. Keep dry for 12 hours. Achieves a full cure in 24 to 48 hours.

SAFETY 
Flammable according to the Australian Dangerous Goods Code. 
Hazardous according to the criteria of WorkSafe Australia. 
Read and understand the Material Safety Data Sheet before opening.