---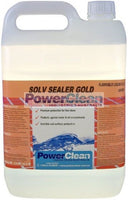 Solv Sealer Gold provides premium "nano-molecule" protection to, natural fine stone, sandstone, pavers, bricks, porous tiles, and grout. Its extremely small molecular structure enables it to rapidly penetrate into the fine pores of natural stone, clay, and cementitious materials. It provides long-lasting, high-performance protection against water and oil-based contaminants, efflorescence, and spalling.
Solv Sealer Gold is a solvent-based penetrating sealer.
Provides premium protection for up to 15 years.
Independently performance tested by NATA-approved stone laboratory.
Recommended Applications
Formulated to provide ultimate protection from staining to all forms of fine stone, masonry, and cement surfaces including:
Granite, marble, limestone, travertine. (Polished, honed, exfoliated, flamed, or saw cut)
Basalt and Bluestone
Terracotta, Saltillo, Quarry and Terrazzo.
Sandstone and Slate.
Masonry and concrete.
Expected Wear
Solv Sealer Gold will provide the ultimate protection for up to 15 years. However, application methods, weather conditions, traffic, and harsh cleaning methods will affect wear. Avoid the use of solvents, strong acids, and strong alkali for extended sealer life.
Cleaning with Powerclean Proneutro is recommended.
Contact a Technical Advisor for questions relating to re-application methods.
HOW TO USE
Preparation:
New installations must be fully cured before application of Solv Sealer Gold (Min 48 hours)
Existing stone, tile, and grout must be totally clean, dry, and chemical free.
Coverage is 5 to 25m2

 

/ Litre per coat.
Do not apply in direct sunlight. The temperature must be between 10°C and 28°C.
Highly absorbent surfaces may require two or three coats.
Application:
Apply 1 to 3 coats of Solv Sealer Gold by generously saturating the surface using a polish applicator, roller, or sprayer to an area that can be easily reached. (Approximately 15m2). Ensure even coverage.
The surface must be shiny wet with a liquid film for at least 1 minute. For very porous substrates more sealer may need to be applied.
Allow 5 – 10 minutes for the sealer to absorb into the surface and then move the excess product with a squeegee to a new section.
If a second coat is to be applied, wait 20 to 30 minutes and repeat the process.
Using absorbent toweling or applicator, wipe off any sealer remaining on the surface after 10 minutes of the last application. Moisten the towel with Methylated Spirits to remove residues that have dried on the surface.
Allow 12 hours before returning the area to traffic. Keep dry for 24 hours. Achieves a full cure in 24-48 hours.
Safety
Flammable according to the criteria of ADG.
Hazardous according to the criteria of NOHSC.
Read and understand the Material Safety Data Sheet before opening.
Solv Sealer Gold has been performance tested by Stone Initiatives Pty Ltd; an independent ASTM listed, ASAA member Dimension Stone Laboratory to assess the stain resistance imparted to applied surfaces.