---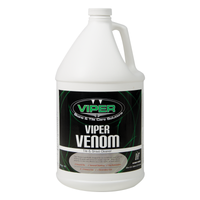 Viper Venom... the original tile and grout cleaner, it removes years of built-up grease, dirt, and stains! 
If you prefer a high alkaline, solvent-fortified chemical to deal with heavy soil on hard surfaces...you want Viper Venom!
Dilute it 1:1 for tough jobs, more for lighter jobs!
You'll see the dirt start to lift out of the grout even before you begin using your machine.
Rinse well.
VIPER VENOM is used as a pre-treatment spray on grout and tile to loosen and emulsify soils and stains, and to facilitate soil removal using the SX-12 or SX-15 Grout and Tile Tool. Viper Venom is also effective for general floor cleaning and upkeep, wall cleaning, and general hard-surface cleaning. Viper Venom, with its hard-hitting blend of builders, solvents, and surfactants, is also ideally suited for fire restoration.
The industry's #1 selling tile & grout cleaner
Can be used on natural stone for restoration cleaning when rinsed effectively with a SX-12 or SX-15 Hard Surface cleaner
Excellent cleaner for

 

fire and smoke damage

 

cleaning of hard surfaces
Directions:
Grout and Tile restoration:
Dilute Viper Venom with 1 part hot water.
Low pressure spray onto grout and tile and allow to dwell for 5 minutes
Do not allow to dry before cleaning/extracting.
Grout and tile maintenance:
Dilute Viper Venom with 16 parts of warm water.
General cleaning and walls:
Dilute Viper Venom with up to 32 parts of warm water.
Dilute 1 part Viper Venom with 9 parts water for woodwork.
For cleaning porcelain and chrome: dilute 1 part Viper Venom with 12 parts water.
Dilution Ratios: 250ml/Ltr     RTU pH: 12     Contains: 3.78Ltr
Information Sheets
Safety Data Sheet
Specification Sheet
Product Label
Tile & Grout Cleaning Brochure