---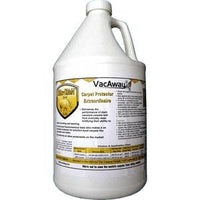 Extensive side-by-side testing has proven Rhino Shield to out-perform all of the "Big Name" protectors on the market! It delivers the best fluorochemical protection for resistance against soil, spills, and oil. PLUS it is unsurpassed at blocking stains from acid dyes such as found in Red Children's Drinks and many other food and drink products.
Rhino-Shield may be applied to both synthetic and natural fibers; with its enhanced acid-dye blocking ability it is especially beneficial when applied to nylon or wool.
Benefits
Great Value (more profit per Sq Mtr than with any other protectant with acid dye blockers). 
Protects your customer's carpet investment by refreshing lost stain resistance from everyday wear and tear. 
Carpets stay cleaner longer.
pH 6.0-6.5 RTU
Freeze-Thaw Stable
Contains leveling agents to help penetrate and give a more even distribution across the entire carpet surface.
Makes vacuuming easier and more efficient.
Directions
Pre-Test all carpets for colorfastness before applying this or any other product.
For DAMP Carpet dilute at 1:8 and apply 1ltr RTU per 10sqm for Residential or 1 ltr RTU per 20sqm for Commercial.
For DRY Carpet dilute at 1:17 and apply 1ltr RTU per 5sqm for Residential or 1ltr RTU per 10sqm for Commercial.
Best applied with a low-pressure sprayer using 30 to 60 PSI and an 8004 Tee Jet.
To ensure a complete and even coverage, use a 50% overlapping spray pattern and brush or rake the carpet immediately after application.
If accidentally applied to other surfaces, such as hardwood floors or baseboards, wipe off before the product becomes dry.
Tell the customer to allow their carpet to dry before using it.
If the product becomes frozen, thaw at room temperature and shake well before using.
Do not mix with other products. We recommend you use a dedicated sprayer and flush with water after use
Information Sheets
Technical Bulletin 
MSDS
Product Label