---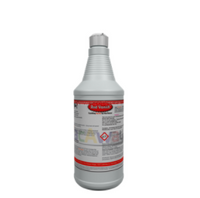 Red Vanish is an AMAZING Crystallizing "ONE-PART" Dye Stain Remover that will make a novice carpet cleaner look like a Pro! It eliminates the hassle of a two-part stain remover and you can be assured there will never be a sticky residue left to cause a re-soiling problem! 

It will remove stains on carpet caused by RED food dye coffee wine blood urine vomit etc. It will also improve many furniture stains on carpeting. Red Vanish can be used with or without heat with excellent results; however, the use of heat will increase the risk of bleaching. Many times the use of heat with Red Vanish can be avoided by simply treating individual stains during your pre-inspection while the carpet is still dry.

Quite frequently when it comes time to clean the area Red Vanish will already have caused the stains to disappear or reduced the stains to the point they will clean right out with HWE pads or bonnets. If not then you can resort to heat or re-treat the stain and give it more time. Red Vanish contains a unique combination of ingredients that cause it to crystallize upon drying. The dried crystalline is powdery and can be removed with routine vacuuming.

Application: 
1)   Apply Red Vanish generously undiluted to the stain. 
2)   Agitate stained area. 
3)   Use with or without heat. 

USING WITH HEAT:
Heat will speed up the stain removal process but will also increase the risk of bleaching the carpet. When using heat set a household type iron on the lowest setting. Place a wet towel over the stain and place the iron on the towel over the stain. Check every 10 - 20 seconds to monitor progress. Stop the procedure if any sign of bleaching occurs. An even better heat source is a wallpaper remover/steamer.

USING WITHOUT HEAT:
Apply Red Vanish. If the stain can't be removed after several minutes dwell time reapply and cover with plastic to slow down the drying. Most stains can then be easily removed with a good spotter and an absorbent towel two to twenty-four hours later.

Cautions:
Test all carpet for colorfastness before using any carpet cleaning product.

 

Keep out of the reach of children.

 

Eye and skin irritant... We recommend you read the MSDS before using.

 

Avoid eye contact or prolonged skin contact. On contact with eye or skin flush thoroughly with water. If irritation persists consult a physician.

 

Never take internally.

 

Do not re-use container. Dispose of this container according to government regulations.

 

Use in well-ventilated area.

 

For use on colorfast synthetic carpet...

 

For professional use only.