---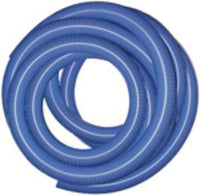 Maximize your vacuum with our new heavy-duty 2.5 vacuum hose.
You've probably been hearing a lot about dramatic improvements in airflow, and therefore drying times by going to 2 ½" vacuum hose? The reports are true!
One of the main restrictions to airflow is the vacuum hose. By going to a 2 ½" instead of a 2 inch, airflow is dramatically increased so you get more of the performance potential of your truckmount.
This quality vacuum hose is lightweight but tough enough for demanding applications. Improved chemical resistance and high heat capabilities. Smoothbore for efficient airflow and smooth exterior for easy handling.
Incredibly durable
2.5 inch hose diameter
Cuffs not included