---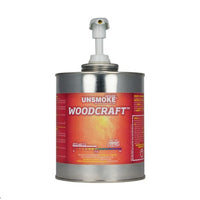 Sale
Effective gel-based compound gently cleans finished wood and restores its natural properties.
Woodcraft assists in the removal of dirt and odors from any hard surface including finished wood, metal, plastic, and fiberglass. Woodcraft comes in a convenient hand pump container and is economical to use. 

Specially developed for restoring smoke-damaged wood surfaces, Woodcraft is a gentle, highly effective gel compound that restores wood damaged by heat, gases and smoke.
BACKGROUND
Structural fires are well known their ability to generate a lot of soil, soot, oily deposits and debris. These contaminants fall onto all building surfaces and contents. The heat and pressure of the fire opens pores in the surfaces that cause the contaminants to become more deeply embedded into the surface. An additional complication is that soot has extremely high surface area, so it traps odors. Successful restoration requires that these deposits be removed efficiently.
Woodcraft has a blend of non-volatile solvents and surfactants that open the pores of the surface and penetrate into greasy soils so that the soils can be more easily removed. Because Woodcraft is a gel and clings to the surface; this clinging action allows more residence time on the surface. Woodcraft is specially formulated for the cleaning and restoration of fire and water damaged surfaces. Woodcraft cleans and deodorizes smoke damaged wooden surfaces while simultaneously replacing the essential moisture and oils removed by heat and smoke.
Woodcraft is a ready-to-use product; do not dilute.
ITEMS NEEDED
Woodcraft Restoration Cleaner
Personal Protective Equipment (PPE) as specified in the Material Safety Data Sheet (MSDS)
Supplies: adequate supply of clean cloths and a safety can for the storage of soiled cloths, fine grade (0000) steel wool
Additional products: solvent alcohol and furniture polish (optional)
PRETESTING
Test the product in an unobtrusive area before proceeding. Look for signs of damage to any finish, for discoloration or poor soil removal.
TO RESTORING WOOD SURFACES
Apply Woodcraft cleaner to finished wood with finest (0000 or 4/0) steel wool pads in the direction of the wood grain. Allow a few moments dwell time to loosen the soil.
Buff the surface dry with a soft cloth. Rotate the cloth frequently so that a clean portion is always on the surface.
Repeat process as long as soil transfers to the cloth.
The surface is now prepared to receive furniture polish.
REMOVAL OF WATER MARKS
Apply Woodcraft Restoration Cleaner with finest (0000 or 4/0) steel wool following the grain. Buff dry with soft cloth.
If any watermarks remain, dampen cloth ball with solvent alcohol/methanol and lightly wipe affected area in a circular motion. Note:alcohol is toxic and flammable. Use very small amounts in this process; only enough to remove the water marks.
DIRECTIONS FOR RESTORING OTHER SURFACES
Woodcraft cleaner is also effective on many appliance finishes, fiberglass tub enclosures, counter tops, etc. Use a similar process as for wood surface. Of course, furniture polish will not be applied to non wood surfaces.
Woodcraft Restoration Cleaner is an excellent cleaner and restorer for the exterior hard covers of smoke damaged books.
CLEAN UP
Check all PPE for damage. Repair or replace as needed.
Be sure to launder soiled cleaning cloths promptly.
Wash hands after using the product.
SAFETY CONSIDERATIONS IMPORTANT
The odor of this product, like any other common material with a fragrance may be irritating to some persons with allergic sensitivity. It is recommended to allow occupants to "sniff test" the product prior to application. For "sniff testing" dip a note card or business card into the product. Allow occupants to "sniff" both fresh and dried product. Obtain permission from occupants prior to product application. Individuals may reoccupy treated spaces when they feel physically comfortable and/or upon advice of their consulting physician
Keep children and pets away from chemical products, equipment and the work area.
Read the Material Safety Data Sheet (MSDS) for any chemical product before using it. You can obtain the MSDSs for
ProRestore Products from your distributor or from ProRestoreProducts.com
Be sure to wipe any surfaces where there has been a spill of the product
Wash hands after using the product.
If using alcohol for water stain removal, be sure to have adequate ventilation and remove sources of ignition.
Be sure to use personal protective equipment, especially glove to prevent splinters that can result from handling steel wool. If there is damage in the building, suitable PPE could include hard hats, heavy soled shoes, full protective suits or aprons. In every instance when spraying solutions overhead or in your breathing zone you should use eye protection, gloves and respiratory protection.
Where NOT to use:
WOODCRAFT TECHNICAL DATA
Sold as

 

1 quart (0.9 L) cans
Case

 

of one 12 quart cans
Re-order numbers

 

163002000 Case 16300700 0 Quart can
Color

 

Golden with a greenish tint
Odor

 

Citrus
Appearance

 

Gel
Flash point None
Specific gravity

 

1.03
Density

 

8.5 pounds per gallon
pH

 

7.5
Phosphate content

 

None
Non volatile matter

 

10%
Surfactant type

 

Anionic / nonionic
Storage

 

Store in a cool, dry location.

 
(UNS163002000)
Specifications
| | |
| --- | --- |
| SKU | UNS163002000 |
| Brand | Unsmoke |
| Shipping Weight | 1.0000kg |
| Shipping Width | 0.150m |
| Shipping Height | 0.320m |
| Shipping Length | 0.150m |
| Unit Of Measure | Each |