---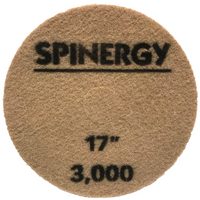 The 3000-grit Gloss pad starts the polishing process. This pad will leave the stone surface with some reflectivity and shine.
Spinergy Diamond Impregnated Pads are the CHEMICAL-FREE solution for care and maintenance of natural stone and terrazzo. Simply use these pads with water and avoid all the risk of chemicals and inexperience.
Designed to remove wear and polish to the desired finish from honed to high polish. For use on: Marble, Travertine or Limestone. These pads can be used on multiple surfaces—floors, walls, or countertops with little to no lippage.
If you are looking for an ENVIRONMENTALLY FRIENDLY, EASY-TO-USE alternative, the Spinergy System delivers the best results and ensures consistent performance. No chemicals, no powders, NO MESS!
| GRIT SIZE | POLISH | EFFECT |
| --- | --- | --- |
| 200 | Restore | The 200 grit Restore pad is excellent for removing scratches and light damage from marble, travertine, and limestone surfaces. |
| 400 | Hone | The 400 grit Hone pad leaves a flat consistent honed finish. Cleans as it finishes. An excellent one-step solution for honed travertine surfaces. |
| 800 | Matte Finish | The 800 grit Matte Finish pad brings out a little more color and clarity to the stone, leaving a smooth matte finish. |
| 1500 | Satin Finish | The 1500 grit Satin Finish pad leaves the floor with a slight shine. A very popular finish for non-polished stone surfaces, easier to maintain than highly polished marble, travertine and limestone. |
| 3000 | Gloss | The 3000 grit Gloss pad starts the polishing process. This pad will leave the stone surface with some reflectivity and shine. |
| 8000 | High Gloss | The 8000 grit High Gloss pad leaves the stone with high reflectivity and clarity of polish. This is a common stopping point. |
| 11,000 | Ultra Gloss | The 11000 grit Ultra Gloss allows you to achieve a very high polish with excellent clarity and reflectivity. When the job requires a very high polish, this pad will get you there. |