---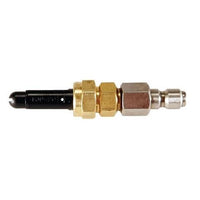 Creates a thick, rich lather to lift dirt and debris from coils.
The CoilJet foaming nozzle is designed to add air to the spray of foaming coil cleaner, increasing foam levels and helping lift and remove dirt from HVAC and refrigeration coils.
Creates a thick, rich lather for better cleaning.
Best if used with a Foam coil cleaner.
Increases cleaning effectiveness by lifting out dirt embedded in coils.
Description
Creates a thick, penetrating lather with the CoilJet Foaming Nozzle attachment. Innovative quick connect design easily snaps onto CoilJet and agitates water and chemical to create a thick lather to coat and clean even the dirtiest coils.
Applications

HVAC condenser and evaporator coils.
Refrigeration units.
Features

Quick connect fittings.
Creates a thick, rich lather.
Safe output pressure for any coil.
Testimonial

"The foaming action this nozzle creates helps lift dirt right out of the coil ." – Tim R., CT