---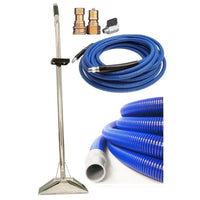 Includes:
CMP AW29 Carpet Wand...  All time best SELLER! Stainless steel ergonomic double bend tube with 2 jets.
This popular wand is now available to work with high or low pressure and high temperature. This precision, all-stainless wand has extra length which means a longer and more comfortable stroke. Quality made in California, not a cheap knockoff
Features and Benefits:
Durable 251-30 1200psi Valve
12 inch wide pickup head
2 x 10002 T jets with filters
Comfort Grip Adjustable Handle
Vinyl sleeve grip for heat protection 
Double S Bend
Splash guards to help keep side spray down.
7.5 Meter Quality High Pressure Solution Hose With Premium Male and Female Quick Connects & Shut Off Valve
Built for the most demanding pressure and heat situations.
Rated at 3,000 psi and 250 degree F, this nonmarking hose will withstand everyday abuse. Steel braid makes it tough and also very flexible. Meets manufacturer's specifications for all truckmount and portable high-temperature machines. The 50' section includes protector sleeves on both ends and male pipe ends. 
7.5 Meter Premium quality imported American GVAC will outlast domestic GVAC hose 4 to 1.
This is the hose designed to run with the superheat - super suckers in the middle of a hot summers day. Smooth free-flowing inside bore allows a higher CFM than regular hoses. Includes cuffs.
Incredibly durable
Two-inch hose diameter
Includes

 

Two-inch

 

PVC hose cuffs