---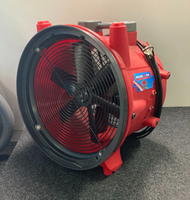 The Razorback AAM Pro Axial Air Mover 50HZ/220V/AU is best used for the latest structural drying techniques in clean water loss situations.
After proper extraction and with the use of effective dehumidification, Razorback AAM Pro Axial Air Movers are used to circulate air to aid in moisture removal of a structure.
With more CFMs and fewer amps, it is the best choice for the latest "in-place" drying techniques. With fewer amps per unit, contractor setup hassles are a thing of the past and the reduced heat load on the environment lets the dehumidifiers create even drier air, resulting in an overall faster drying time than what can be achieved with a standard carpet dryer.
The has two speeds pulling an amazingly low <2 amps on high.
The power-on indicator light makes it easy to see which air movers are working from a distance. This makes for quick job site monitoring.
The hour meter tracks the hours of operation. This is a great way to ensure your equipment is not being turned off after you leave.
The GFCI daisy-chain panel lets you connect up to five Razorback AAM Pro 
units (on High Speed) safely from a single outlet. Five units can stretch up to 100 feet from the outlet.

 

This limits the need for extension cords and keeps the job site less cluttered.
The

Razorback AAM Pro

's never-loose cord wrap design makes for quick setup and takedown. The cords are securely attached using the never-loose cord holder. This way as you're driving down the road you do not have to worry about a spaghetti mess of cords in the back of your vehicle.
All

Razorback AAM Pro

units have molded into the shell a performance pitch arrow. Point the arrow directly at the wall when lining the

Razorback AAM Pro

 around the room, and you have the

Razorback AAM Pro 

positioned

 

for the maximum floor and wall coverage. 
The low-amperage design allows you to run more units per circuit. Power is always a concern when setting up equipment. Traditional air movers use up 2 to 3 times more energy while delivering less CFM than

Razorback AAM Pro

. With amp settings of 2.5 amps on high and 1.5 amps on low, you can set up (and rent) more units than ever before.
A new bell-shaped venturi, a larger fan blade, and an improved aerodynamic grill all feed to its amazing high volume CFM. No other low amp axial can move more air than the

Razorback AAM Pro

. With 36% more airflow than the popular Gale Force model Pitch design ensures the largest airflow to floor coverage possible. 
Reduced noise level for improved occupied environment conditions.

Razorback AAM Pro

uses advanced engineering that couples specially designed convex fan blades that can move an incredible amount of air while maintaining lower sound decibels. You can stand right next to Razorback AAM Pro Axial Air Mover while it is running on high speed and carry on a normal conversation without having to raise your voice. This is one air mover your customers will love. 
Stackable for operation or storage. The 

Razorback AAM Pro

was designed to fill a doorway and create either a negative or positive pressure in the affected area by blowing the air in a single direction.