---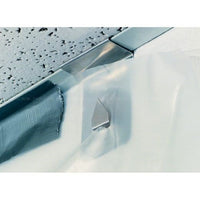 Poly-Hanger #2
Hang sheeting directly to wall moldings of acoustic ceilings
Simple to install, reusable
100 per box
Alleviates wall surface damage; no spray glue needed
Increases production and prevents poly sheets from falling
Poly-Hangers save time and labor by attaching in just a few seconds, helping to quickly install containment areas, drying chambers, or dust protection barriers at your work site.
They also help to eliminate damage and clean-up efforts caused by tape and glue adhesives, making the work you do safer and more effective.
The Poly-Hanger #2 supports one or more layers of poly-sheeting on the front of walls by clipping over the horizontal leg of ceiling wall molding. The prong makes hanging poly faster, easier, and ensures that it will stay up for the entire duration of the job.
Poly-Hanger #2 Installation:
Install Hangers approximately 3' apart.
Hang the poly sheeting on the prong keeping the top of the poly just below the wall molding.
Complete containment by taping between the poly and the molding and by taping over the prong.
Poly-Hangers can also be reused on future jobs.