---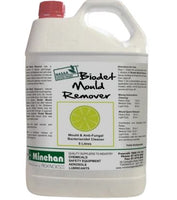 Biodet Mould Remover has a combination of natural anti-fungal, antiseptic, antibacterial and anti-viral properties.
This combination of natural ingredients is ideal to deal with the task of inhibiting and cleaning mould from hard surfaces as well as fabric. This combination of ingredients and properties makes Biodet the perfect partner for Airconditioning unit cleaning and sanitising.
Biodet Mould Remover's natural additives actually kill the mould spores, unlike bleach which turns the mould spores to a white colour but does not kill the spores. Produced from plant-derived and renewable resources. Biodet Mould Remover is a complex mixture of bio-flavanoid natural ingredients that kill 99.9% of germs.
Biodet Mould Remover is ideal to use after a natural disaster, such as flooding. Timber frames may be sprayed and left if linings of gyprock are being
replaced. Biodet Mould Remover inhibits odours from wet musty and stable water.
pH: 3.4 - 3.6
Directions
Step 1: Clean the surfaces with a 20 to 1 dilution of Biodet Mould Remover. Spray surface and leave for 20 minutes, then wipe off.
Step 2: As a preventative, use a spray application and mist the surface to be treated. Within 24-48 hours the mould spores will drop off.
Mixing Instructions:
Cleaning:
Heavy Duty 10 to 1
Medium Duty 15 to 1
Light Duty 20 to 1
Mould Spore Removal:
Heavy Duty 25 to 1
Light Duty 40 to 1
Disinfectant and Sanitising Dilution Rates:
Heavy Duty 25 to 1
Medium Duty 30 to 1
Light Duty 40 to 1
Completely safe and natural cleaning and sanitising properties.