---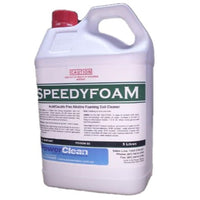 Minehan SpeedyFoam is a totally free rinsing evaporator and coil cleaning concentrate. Cleans grease, oil, lint, slime, and rust from evaporator coils.
SpeedyFoam is very effective at cleaning split systems and kitchens. High and low-pressure sprayer - soak or brush.
pH: 10.9 - 11.1
Directions for Use
Light soiling: may be diluted at up to 4 to 1 with water.
Medium soiling: dilute at 4 to 1 with water.
Heavy soiling: use undiluted. In some instances, a second application may be required.