---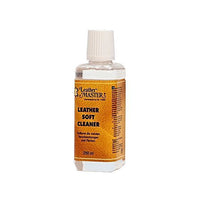 Soft Cleaner is a mild, water-based detergent, which will remove general soiling and water-based stains.
Soft Cleaner is pH neutral, so it is gentle enough to be used regularly on leather furniture, shoes, handbags and clothing.
When selecting a leather cleaner pH is an important consideration. Leather is slightly acidic, but many cleaners are highly alkaline. Alkaline cleaners react with the bonds between the leather fibres, causing the leather to dry and shrink. The pH of cleaning solutions can also affect the stability of dyes, pigments and leather finishes. Any product that is used regularly on leather should be have a neutral pH.
A regular cleaner should also be water-based. Many cleaners contain solvents, such as alcohol or mineral spirits. Solvent-based cleaners will definitely clean, but they can also damage leather. Solvent-based cleaners should not be used for regular cleaning. Soft Cleaner is solvent free – it works without affecting the integrity of your leather or its finish.
Suitable for aniline and pigmented leather.
Instructions
Pour a small amount of Leather Soft Cleaner onto a clean sponge and gently squeeze the sponge to create foam. Cleaning with foam ensures that the cleaner sits on the surface of the leather where it is needed and doesn't penetrate deep into the leather where it isn't needed.
Apply the foam to the surface to be cleaned. Allow a few moments for the foam to dissolve the dirt, and then remove the foam with a clean white cloth. Do not rub or scrub at the leather, let the chemical action of the cleaner do the work. Rubbing and scrubbing works on pots and pans, it doesn't work on leather. Rubbing and scrubbing drives dirt deeper into the leather and damages the topcoat. 
Always re-protect with Leather Protection Cream after cleaning with Leather Soft Cleaner.
If stains or soiling remain after cleaning with Leather Soft Cleaner, try cleaning the area again. If this doesn't remove the stain you will need to use a stronger cleaner. 
(LMCLN05-250ML)
Specificaitons
| | |
| --- | --- |
| SKU | LMCLN05-250ML |
| Brand | Leather Master |
| Shipping Weight | 0.2600kg |
| Shipping Width | 0.100m |
| Shipping Height | 0.320m |
| Shipping Length | 0.100m |
| Shipping Cubic | 0.003200m3 |
| Unit Of Measure | 250ml |