---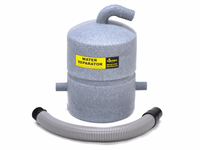 For use with the Injectidry System
Prevents bulk water from passing through
For use with negative drying only
The Water Separator works to protect your HP 60 blower by preventing bulk water from passing through it when drying in a negative mode.
The Water Separator should be used after the initial vacuuming with a truck mount system to capture the remaining water that could be undetected. Placing it as we recommend, it will collect bulk water that may be trapped in ceilings, walls, floors, or cabinets that you are drying.
This is no ordinary bucket...The Separator has an anti-collapse ring built into it.
Includes:
1 x WS Housing
1 x RP‐WS‐AOH  Air IN hose