---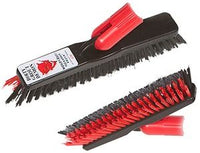 Sale
The world's meanest and longest-lasting grout brushes are here!
Featuring DUPONT Tynex® Bristles
Tired of grout brushes that wear out too fast, or don't perform? Get a brush with teeth! The new Dirty Grout Demon will chew up and spit out your old grout brush! The Tynex bristles on the Grout Demon have microscopic silicon carbide teeth that make short work of even the dirtiest grout lines.
Featuring:
Patented Tynex Nylo-Grit bristles
'Flex' center fills all sizes of grout lines
Angled brushes ensure the sides of grout lines get scoured too
Contains 50% more brush material than other grout brushes
Center bristles won't "round out" like other grout brush bristles, which makes the brush useless for grout cleaning.
OEM associations: GB200, AB112, 20100726, 47131801, ABC-TTGS-1