---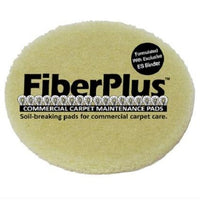 FiberPlus pads are ideal for carpet scrubbing...
This soft synthetic pad is fortified with an elastomeric property that adds to their durability. These pads are well suited for scrubbing carpets with the correct degree of agitation. FiberPlus pads can also be used for light floor scrubbing.
Why scrub the carpet with pads rather than brushes?
Consider this illustration....   you have a greasy frying pan to clean. You could get it clean by scrubbing it with a scrub brush, but if you scrub it with one of those green kitchen pads the pan will clean up even easier.
Why? Because the pads make more surface contact. So when we scrub a carpet with a pad the same principle holds true. We have better agitation and we use less solution to get the job done.
FiberPlus pads are durable. They last approximately 650 to 930 square meters per installation when used for carpet cleaning.