---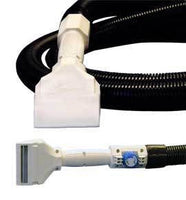 The DriMaster 3 Upholstery Cleaning Tool maintains the proven ergonomic design, cleaning performance and engineering achievements of the DriMaster 2 Upholstery Cleaning Tool.
At the same time, feedback from cleaning technicians just like you has led to several exciting enhancements to the product. 
Moulded Gliges on the tool lips mean a smoother surface with nothing to wear out virtually eliminating any chance of fabric snagging
The tool is easy to clean out and even easier to service! Just undo four screws and remove the nose cone for complete access. Push to connect fittings between the valve and bar jet allowing for cleaning access and easy replacement.
If the nose cone gets dropped, cracked, or chipped, just replace the nose cone. This extends the useful life of your tool for long-term profitable cleaning.
Less operator fatigue, yet durable, but lightweight, the DriMaster 3 Upholstery Tool is less than half the weight of other upholstery tools.
The new Jetless Cleaning Technology eliminates the need for a trigger valve so multiple holding positions are possible, lowering the potential for hand strain. No second pass, no over-spray, and high-volume water flow all contribute to the efficiency and speed of cleaning.
Cleaning with the DriMaster Upholstery Tool is just plain faster. The high flow - low residual moisture effect of this new technology leaves the fabric cleaner and drier while greatly reducing the chances of damage.  
Now you can combine the high-performance cleaning of the DriMaster Tool and HydraMaster's state-of-the-art cleaning chemistry and you're ready to treat the most cleanable fabrics with fantastic results!