---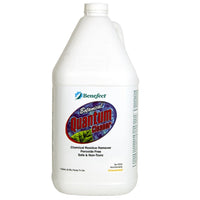 Sale
Benefect Quantum Chemical Residue Remover
 

is a high-performance bio-based & peroxide-free cleaner specifically formulated for the removal of microscopic chemical residues, particularly from clandestine or illicit drug use & production (such as methamphetamine, fentanyl, heroin, oxycodone, etc). Also effective for allergens. Lab-tested & field-proven.


Contains only botanically-sourced or sustainable ingredients & does NOT contain any VOCs (Volatile Organic Compounds)*, oxidizers such as hydrogen peroxide, ammonia nor any bleach, chlorine, petrochemicals, phosphates, solvents, dyes, fragrances, or other hazardous or unnecessary ingredients. This no mixing is required, the ready-to-use product is ideal for:
Cleaning and removal of microscopic chemical residues
Items, fixtures, and contents
Crime and Trauma Scenes
Clandestine Drug Site Clean-Up
Plus, Other Porous & Non-porous Materials & Surfaces
All-Natural Ingredients
Peroxide Free!
No VOCs*
Safe and Non-Toxic
Made from all-natural ingredients, it is readily biodegradable & safe to use around children, pets & the chemically sensitive.
Benefect's Quantum Chemical Residue Remover outperforms the traditional methamphetamine decontamination process by rapidly reducing residues down to the smallest levels possible (called quantum amounts), in only 10 minutes!
Directions:
Remove any visible debris with HEPA-filtered equipment.
No mixing or dilution is required. Wet the surface with the product by sprayer (high or low pressure, hand or power operated), foamer, cloth, sponge, or clean mop (spot test to check surface compatibility).
Leave for 10 minutes (avoid allowing the surface to fully dry to make wiping or rinsing easier).
Wipe off with a clean, damp microfiber cloth.
Rinse (extract waste for safe disposal) or repeat the damp-wipe step if rinsing is not possible under circumstances.
Repeat steps 2-4 three times to achieve quantum levels.
Sample for testing once dry.
Note: For heavy contamination or difficult circumstances, additional applications may be required.