---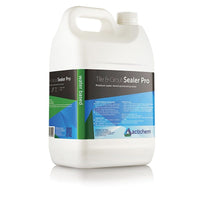 Premium water-based penetrating sealer
Stone Sealer Pro is formulated to provide premium protection to marble and fine stone, sandstone, terracotta, slate, quarry, clay, cement, and masonry surfaces. It employs high-grade fluorochemical polymers and penetrants to create a powerfully repellent substrate, protecting against oil and waterborne contaminants.
Premium protection for up to 5 years

Independently performance tested by NATA-approved laboratory.

Meets the requirements for Green Building Council of Australia Green Star Office Design V3 IEQ-13
BENEFITS 
Dual Protection Stone Sealer Pro provides protection against water and oil-borne contaminants including food and beverage stains, oil & greasy stains, biological growth such as mould & mildew, efflorescence, pollution and weathering.
Retains Newness – Formula specifically designed for premium protection of marble, limestone, travertine, sandstone, terracotta, clay and masonry products.
Natural Look – will not discolour or alter the natural look of recommended substrates. • UV Stable – Ideally suited for both indoor and outdoor use.
Vapour permeable – won't trap moisture. Does not hinder the natural passage of water vapour. T&G Sealer Pro is non-flammable with a very low VOC content.
Green Star Approved – Meets VOC requirements of Green Star Design V3 IEQ13.


Recommended applications: 
Formulated to provide premium protection from staining to medium to high porosity fine stone, clay & cement products.
Marble, Limestone, Travertine

Sandstone & Bluestone

Cement & Clay pavers

Terracotta, Saltillo, Quarry
Ideal for all interior and exterior applications. Excellent protection is afforded to fine stone flooring and walls, outdoor sandstone features, patios, walkways, and concrete and clay paving.
Expected Wear – Stone Sealer Pro will provide premium protection for up to 5 years. However, application methods, weather conditions, traffic, harsh cleaning methods and stone type will affect wear. Avoid use of solvents, strong acids and strong alkalis for extended sealer life. Cleaning with Proneutro is advised. It is recommended that the sealer be re-applied every 2 to 3 years where harsh conditions exist.
This is a great replacement for PowerClean Sealer Pro.