---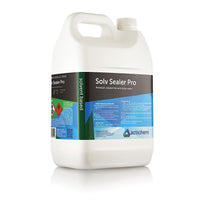 Professionally formulated solvent based penetrating sealer providing exceptional protection for porcelain, low porosity tiles and fine stone. It is based on "ultra-small molecule structure" technology which enables it to penetrate into the fine pores of polished porcelain, dense granite and fine stone to create a high performance sub-surface barrier against water and oil borne contaminants.
Provides premium protection for up to 5 years
Independently performance tested by NATA approved stone laboratory.
Colour: Clear (water white)
pH: N/A
Fragrance: Solvent
Dilution: Ready to use
Safety profile: Class 3 Flammable
Pack sizes: 5Lt & 15Lt
BENEFITS
Dual Protection – Solv Sealer Pro provides protection against water and oil borne contaminants including;
food and beverage stains, oil & greasy stains
biological growth such as mould & mildew, efflorescence
pollution and weathering
Retains Newness – Formula specifically designed for ultimate protection of granite, polished marble, polished porcelain and similar low porosity substrates.
Natural Look – will not discolour or alter the natural look of recommended substrates.
UV Stable – Ideally suited for both indoor and outdoor use.
Vapour permeable – won't trap moisture. Does not hinder the natural passage of water vapour.
Safe to Use – Solv Sealer Pro has a very low VOC content making it pleasant to use.
APPLICATION AREAS AND SURFACE SUITABILITY
Formulated to provide premium protection from staining to all forms of tiles and fine stone, but performs with special distinction on low porosity and dense tile and stone, including:
Polished porcelain, unglazed & semi-vitrified ceramics and grout.
Polished and/or dense granite, marble and fine stone.
Also provides excellent protection to: Terracotta, Saltillo, Slate, Quarry, Terrazzo and Grout lines.
Expected Wear:
Solv Sealer Pro will provide excellent protection for up to 5 years. However application methods, weather conditions, traffic and harsh cleaning methods will affect wear. Avoid use of solvents, strong acids and strong alkalis for extended sealer life. Cleaning with Actichem Proneutro is recommended. It is recommended that the sealer should be re-applied every 2 – 3 years where harsh conditions exist.
Considerations:
Not to be used as a sub-terrain waterproofing. Should not be applied if temperature is above 40 degrees or if rain is expected within 2 hours of application. If rain has preceded the application, the surface should be allowed 24 hours to dry completely.
HOW TO USE
Read and understand the SDS before use
Always pre-test in an inconspicuous location for sensitivity to chemicals.
Coverage can vary dramatically depending on the degree of porosity, but is normally 5 to 10 m2 / Lt per coat for open structure, highly porous substrates. And 10 to 20 m2 / Lt per coat for dense, less porous substrates.
750 linear meters per litre (2 coats on 3mm grout).
260 linear meters per litre (2 coats on 8mm grout)
Note:
Application on large concrete areas should be based on a preset coverage rate using a dedicated sprayer or painting equipment. No subsequent removal of excess product is required.
Surface Preparation:
New installations must be fully cured before application of Defender CSD 50 (Min 48 hours, however some concrete installations may take up to 7 days to cure. Confirm with the structural engineer).
Existing stone and grout must be totally clean, dry and chemical free.
Coverage can vary dramatically depending on the degree of porosity, but is normally 5 to 15 m2 / Lt per coat for open structure, highly porous substrates and 10 to 20 m2 / Lt per coat for dense, less porous substrates.
Do not apply in direct sunlight. Temperature must be between 10°C and 28°C.
Highly absorbent surfaces may require two coats.
DILUTIONS
Ready to use
APPLICATION
Apply 1 to 2 coats of Solv Sealer Pro by generously saturating the surface using a polish applicator, roller or sprayer to an area which can be easily reached. (Approximately 15m2).
Ensure even coverage.
The surface must be shiny wet with a liquid film for at least 1 minute. For very porous substrates more sealer may need to be applied.
Allow 5 – 10 minutes for the sealer to absorb into the surface and then move the excess product with a squeegee to a new section.
If a second coat is to be applied, wait 20 to 30 minutes and repeat the process.
Using absorbent toweling or applicator, wipe off any sealer remaining on the surface after 10 minutes of the last application. Moisten the towel with Methylated Spirits to remove residues which have dried on the surface.
Allow 6 hours before returning area to traffic. Keep dry for 12 hours. Achieves a full cure in 24-48 hours.