---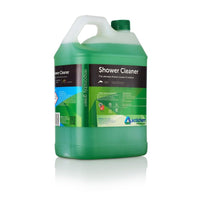 *** SPECIAL ORDER - ONLINE ONLY***
Product Description
The Actichem Responsibly Green Shower Cleaner is a bold step into the future of modern cleaning chemistry. When using this product, you will find unique features that you don't find in any other shower cleaning product. Shower Cleaner is designed to be the most effective and versatile product of its kind. The powerful and effective cleaning action from naturally derived ingredients, makes it a dream product for cleaning sports change rooms and locker rooms in corporate buildings, while the fresh, distinguished fragrance makes it an attractive option in household shower cleaning. Whatever or wherever your shower is located, this product will care for it to perfection.
FOCUS CONSERVATION SPECIES
The focus species associated with Responsibly Green Shower Cleaner is the dolphin & porpoise family. Click here to learn more about dolphins and porpoises and why we have chosen to support these amazing sea creatures.
BENEFITS
Powerful cleaning action that removes soap-scum, hard-water stains, biological growth and body fats fast and effectively.
Boosted with enzyme based odour control to destroy odours in the shower and even in drains.
Destroys germs and bacteria to a hospital grade.
Anti-resoiling technology means that shower surfaces repel dirt and will become easier and easier to keep clean.
Environmentally friendly.
Septic safe.
Leaves the shower with a fresh, clean fragrance.
Leaves shower fittings gleaming and spot free.
APPLICATION AREAS AND SURFACE SUITABILITY
Ideally suited to cleaning of all shower surfaces including, tiles, glass, tapware and grout.
SKU: AP775.05