---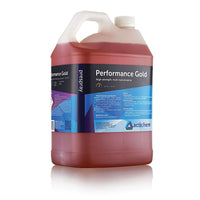 Product Description
Performance Gold is a high-performance carpet cleaning pre-spray.
Performance Gold is a unique blend of high-performance surfactant chemistry, soil release agents and solvents which combine to provide grease cutting power normally only associated with high pH, heavy-duty degreasers. The beauty is that whilst Performance Gold rips through the toughest of grime it cares for the carpet fibre at the same time and rinses freely to leave the carpet chemical-free.
This product is a great replacement for PowerClean PowerClenz Ultra.
Colour: Dark red
pH: 9.5 – 9.8
Fragrance: Fruity
Dilution: 1:40 – 1:75
Safety profile: Non-hazardous
SKU: AP454.05