---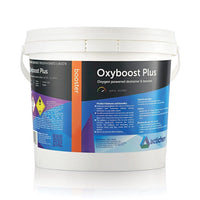 Product Description
Oxyboost Plus is an oxygenated additive for destaining, cleaning & deodorising.
Actichem's Oxyboost Plus is a super concentrate, oxidising compound designed for use as both an additive to cleaning solutions and a stand-alone product. Oxyboost Plus provides powerful oxidising activity to cleaning solutions with particular application in fire restoration, stain removal and deodorising. It derives its oxidising capability from potentiated Sodium Percarbonate which provides maximum oxygen release even at ambient temperatures.
The ready-to-use solution of Oxyboost Plus yields an alkaline solution and therefore provides unique solutions for both hard and soft surface cleaning applications where the oxidising ability of Hydrogen Peroxide is limited.
Colour: White (powder)
pH: 8
Fragrance: None
Dilution: 10 – 20 grams per litre of ready to use chemical
Safety profile: Class 5.1 Oxidising Agent
SKU: AP446.045