---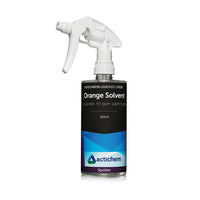 Product Description
Orange Solvent is a concentrated citrus blend for removing oily marks and gum from carpets and fabrics.
Orange Solvent is a super strength blend of DiLimonine terpene solvents and emulsifiers for removing tough gum, oily soils, grease and paints. Orange Solvent has been specially designed to enable effective rinsing with clean water or extraction detergent solution.
Orange Solvent is ideal to use on all carpet fibres, fabrics and hard surfaces. However some surfaces are solvent sensitive including various carpet backings, some plastics and polymer coatings. The power of citrus has been established for many years, we just brought it to life.
Colour: Clear (water white)
pH: N/A
Fragrance: Citrus
Dilution: Ready to use
Safety profile: Class 3 Flammable
SKU: AP128.005