---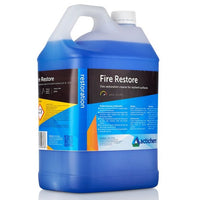 Actichem Fire Restore chemistry cuts through the tough oily soils created by fire activity and the resultant smoke and soot.
Where fires have consumed synthetic materials such as paint, plastics and rubber, the soot deposits contain significant amounts of oils and resins which penetrate deep into porous surfaces. Fire Restore's unique chemistry is designed to penetrate deep into porous surfaces of resilient materials and breakthrough and release these tough soot and smoke deposits.
Recommended applications
Safe and ideal for use on all resilient surfaces including tiles, concrete, masonry, terracotta, natural stone and unsealed lino. Most painted concrete floors, powder-coated metals, zincalume, construction timber and structural steel, can also be safely cleaned with Fire Restore, however, pretesting for substrate chemical sensitivity is recommended. If sensitive substrates are encountered, try a weaker dilution of Fire Restore or use Fire Fix.
BENEFITS
Smart Cleaning Power – Fire Restore is specifically designed for fast and effective removal of soot residues from resilient surfaces where larger areas to be cleaned are often encountered. The affordable Fire Restore solution, with its incredible cleaning action, helps lower costs on these applications.
Innovative Chemistry – Fire Restore has the exceptional ability to penetrate and release in-grained soils and the micro-size smoke particles from porous and semi-porous surfaces.
Safety First – Fire Restore is an alkaline detergent but is not classified as dangerous goods. This makes it substantially safer in use and in transport.
Versatile Solution – Fire Restore also provides powerful cleaning action on general grime and oils found on tiles, masonry and concrete.
Odour Control – Fire Restore is the key to successful odour control in fire and soot-affected areas. Effective removal of this soiling is an integral part of eliminating associated odours.
HOW TO USE
Dilution
Add 50-100ml per litre of water (1:10 to 1:20) depending on soil conditions.
For heavy soil conditions, up to 200ml per litre can be added. If used on sensitive surfaces, always pre-test for substrate chemical sensitivity
Application
Cover areas not being cleaned. Only apply the solution to an area which can be cleaned and rinsed within 30-40 minutes. Follow typical fire restoration cleaning techniques.
Apply the solution to a workable area using a sprayer, sponge or scrubber machine. Do not allow the solution to dry onto the surface.
Agitate and allow 10 to 15 minutes of dwell time.
Re-agitate areas of heavy soiling.
Rinse the surface thoroughly using clean water. A high-pressure washing system will provide effective results.
(Odour control & stain removal)
Oxyboost Plus is a concentrated oxygen oxidising powder that when added to the diluted Fire Restore solution, provides oxidation of mal-odour molecules and removal of stubborn stains.
Mix up the Fire Restore solution using warm water (40 – 60C)
Add 10 – 20 grams of Oxyboost Plus per litre of ready-to-use Fire Restore solution. Stir well to dissolve Oxyboost Plus.
Use the solution within 30 minutes.