---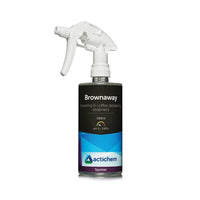 Product Description
Brownaway is a browning remover for carpets and upholstery.
Brownaway is an innovative, high-activity formula for neutralising & reversing alkaline browning (cellulosic browning) stains. This professionally researched formula includes a special blend of low pH compounds proven to permanently remove tough browning discolourations, watermarks, coffee stains, urine stains and many dye stains.
This product is a great replacement for Powerclean Debrown.
Colour: Clear (water white)
pH: 1 – 2
Fragrance: None
Dilution: Ready to use – 1:1
Safety profile: Non-hazardous
SKU: AP494.005S