---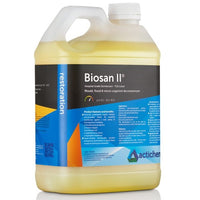 | | |
| --- | --- |
| TGA Listed for use against COVID-19 in the ARTG for legal supply in Australia | |
Actichem's Biosan II is a proprietary anti-microbial decontaminant for use in heavy-duty restoration situations
Where bacteria, viruses, spores, moulds and yeasts are prevalent because of flooding, body fluids or organic waste.  
The core biocidal activity in Biosan is derived from a synergistic combination of two powerful biocides and specific potentiator chemistry which effectively destroys a wide range of micro-organisms, viruses, odour causing bacteria and mould.
This powerful biocidal blend is carried rapidly and deeply into the affected area with a dynamic wetting agent which enables the biocide to penetrate substantially further into porous substrates, fabrics and fibres than traditional disinfectants.
Evaluated in accordance with the TGA Test for Hospital Grade Disinfectants under "dirty" conditions at a dilution of 1:25 by a NATA accredited laboratory. (Test report available)
| | |
| --- | --- |
| Colour | Tan |
| pH | 7.5 |
| Fragrance | Light Lemon |
| Dilution | 1:25 |
| Safety | Irritant |
| Pack Size | 5Lt |
Benefits
Sophisticated Anti-microbial Blend –

 

Biosan II employs a potentiated blend of two powerful bactericides each with its own potentiating chemistry. This provides a significantly faster and wider scope of kill which includes –

gram-postive bacteria (eg Bacillus Subtillus, Staphylococcus Aureus)
gram-negative bacteria (eg Escherichia Coli, Pseudomonas aeroginosa)
Moulds and Yeasts (eg Aspergillus Niger)
Viruses (eg Newcastle Disease Virus)

Penetration –

 

To provide ultimate sanitization of target surfaces, this powerful anti-microbial package has been combined with super-wetting technology. This innovative chemistry enables the biocide to penetrate dramatically faster and deeper into the inner structure of the fibre or porous substrate.
Eliminates odours –

 

Biosan II eliminates odours at their source by powerful anti-microbial action against odour-causing germs.
Tough Odours –

 

will combat tough flood and fire odours and malodours caused by urine, faeces, sewage, vomit and other organic odours.
Provides a Safe Working Environment –

 

ideal for removing or minimizing dangerous micro-organisms ahead of continuing with restoration clean-ups involving human fluids, sewage and mould.
Hard surfaces –

 

also ideal for use on hard surfaces.
Substrates
Biosan II is ideal for use on all wool and synthetic fabrics and carpeting except for stain-resistant nylon. Biosan will possibly remove some or all of the stain-resistant treatment. However, stain-resistant carpets severely soiled by organic contaminants will already have a high proportion of the stain-resistant treatment removed.
Biosan II is highly effective on hard surfaces including concrete, plasterboard, wood, tiles and grout.
How To Use
Always pre-test in an inconspicuous location for substrate sensitivity to chemicals.
Note comments above regarding stain-resistant carpets.
Application:
Mix 40ml Biosan II per litre of water.
Apply directly onto the odour source.
Allow 10 minutes of reaction time before further cleaning or rinsing.
Application Notes:
Biosan II can be applied before cleaning or/and after cleaning has removed the bulk of the odour source.
If large amounts of organic matter are present or if a total kill has to be guaranteed to always treat the affected area after cleaning has removed the soiling even if the area has already been treated before cleaning.
When used after cleaning a light rinse is sufficient to remove excess Biosan II solution.
For large areas, a 1:100 solution can be made and used as a light post spray and raked into the carpet.
Always ensure that the Biosan II makes physical contact with the odour source.
NOTE: Do not mix Biosan II with any other cleaning solution.
Information Sheet
Safety Data Sheet
Australian Register of Therapeutic Goods Certificate