---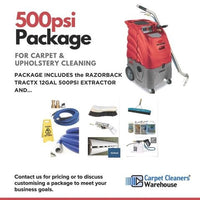 Are you looking for an all-included package to get your carpet cleaning business going?
Or are you looking for an additional machine for your business?
The Razorback 500psi Portable Carpet Starter Package is a great buy at just under $6k as you get the machine, accessories, and chemicals you need to get going.
The Razorback TractX 12-gallon 500 psi Extractor with Instant Heat provides the pressure and vacuum strength for professional carpet cleaning. 
The package also includes: 
1x Razorback Wand and 7.5m solution and vacuum hose set
1x GreenGlides 12 Inch Slot Wand Glide
1x PMF Upholstery Tool with 3.5inch External Jet with 400psi Plastic Head
1x HydroForce Plus Injection Sprayer
1x Grandi Brush with Handle
1x Carpet Cleaning Starter Chemical Kit includes: 1x HotHot UHT Pre-Spray (4 litre), 1x e-Rinse EFR Emulsifying Fibre Rinse (4 litre) and 1x Big Blue Deo Deodoriser (4 litre)
1x Horsehair Brush (Hand-fit) 
1x Caution Hoses Wet Carpet Sign